Amazon.com, Inc. is the most well-known giant in the e-commerce industry, making Amazon a share of one of the most traded shares worldwide. The company is of American origin and is headquartered in Washington, DC, Seattle, USA. The founder of the company is Jeff Bezos, who is still active in the company's operations, but officially the title of CEO is now held for a short time by Andy Jassy. Amazon began operations as early as 1994 as an online bookstore, the saga of which has since undergone several twists and turns, with Amazon currently selling almost all kinds of products on a very wide geographical scale. In addition to various and really all kinds of goods and commodities, Amazon also owns numerous companies related to media production and media publications such as Twitch, the movie database IMDb, and the Whole Foods grocery chain. In addition to a wide range of product sales, Amazon has also developed a slew of its own products, the best known of which are probably Alexa Internet, Amazon Kindle, Amazon Alexa and Amazon Video.
In terms of the company's operations in terms of readings and statistics, the company's revenue in 2020 was approximately $ 386.1 billion, with a net income of approximately $ 21.3 billion and an estimated market value of approximately $ 1.6 trillion. The company is inevitably one of the most valuable companies in the world. The company is huge, and in fact is estimated to be the world's largest online marketplace, an artificial intelligence assistant provider, a live streaming platform, and a cloud service platform if the metrics are revenue and market open. The company is estimated to employ a brisk million people worldwide and is the second largest employer in the United States, despite much controversy over the treatment of its employees.
Amazon is interested in the media at regular intervals due to the huge size of the company. The company has sometimes been described as even a larger and more significant player than the states, which has at times led to quite negative news coverage due to, for example, technical customer monitoring, fierce international competition, demanding work culture and poor working conditions and tax evasion. In addition to this, Jeff Bezos, the company's founder and chairman of the management team, has been the subject of frequent headlines, for example in 2021, when the CEO achieved the title of the richest person in the world and previously a fairly expensive divorce.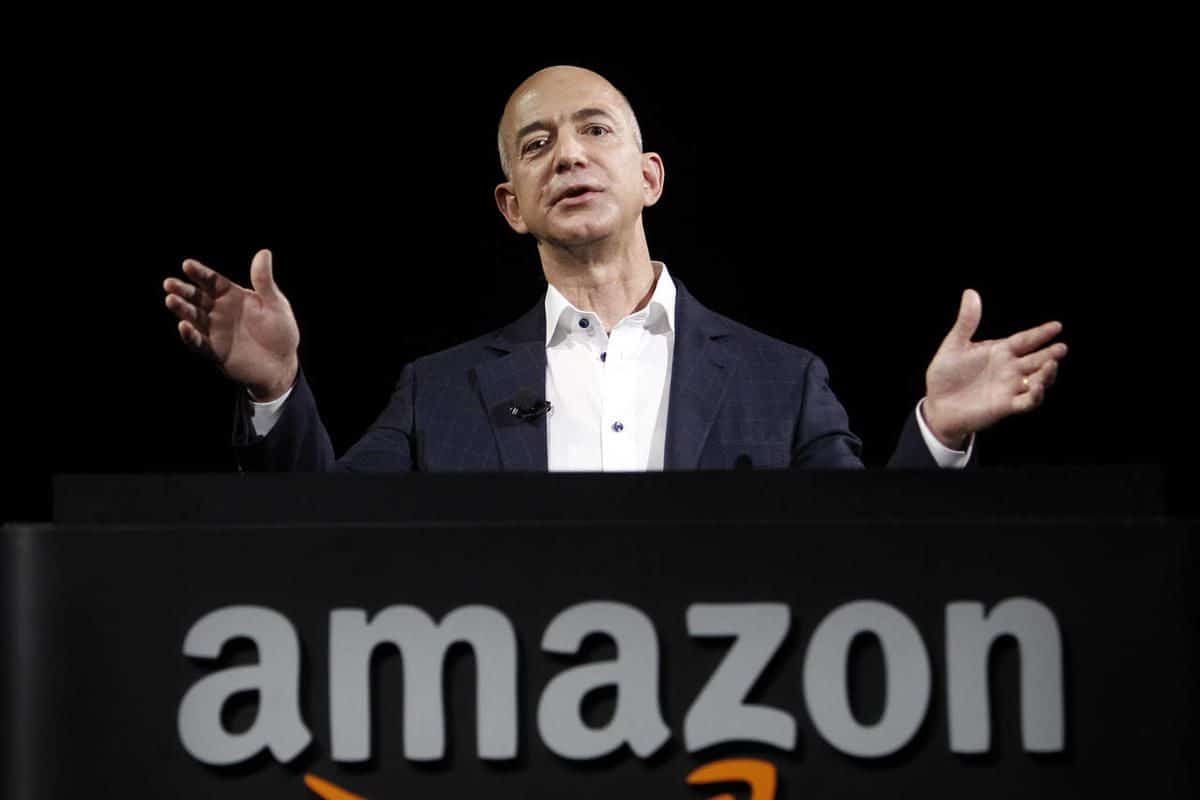 Buying Amazon stock in 2022
Equity investing has grown in popularity as the popularity of investing has grown recently. In addition to funds, equities have taken over the industry in many investment portfolios, as investors are attracted to a wide range of options and the opportunity to influence their own investments holistically. Gains repatriated through individual stocks have much higher potential than many other investment options, although the downside of high returns is always higher risk. However, the risk is reduced by a thorough background study of the companies to be invested before starting to invest.
Once the decision to buy an Amazon stock, for example, has been made, the investor must choose the most suitable trading venue for him. In general, a suitable store is, above all, inexpensive and, of course, natural and preferably easy to use. Of course, shares can already be bought through one's own bank, but a small comparison of different exchange platforms is worth making, as which of us wants to melt investment gains into unnecessary expenses, if even a cheaper alternative exists. Because investing is hugely popular today, the wonderful world of the internet is bursting with potential investment platforms that often specialize in, for example, stock trading at more flexible prices than domestic banks, often with higher investment costs, especially if the sums invested are smaller. When you do the most suitable background for an investment broker, you make sure that you find the most suitable exchange service for you and at the same time learn to be a more independent investor who can execute orders himself without a bank as a futile intermediary. When investing, you really should be the lord of your own happiness and accumulating background information is always worth your time.
Without further ado, in this article we will provide you with instructions on how to trade Amazon stock in 2022. This simple and beginner friendly article will tell you how to start investing in Amazon stock just step by step and you will not fall off the carts at any point along the way. Amazon stock is also popular as an investment target in Finland, probably due to the company's stable position as the king of e-commerce. Many believe that Amazon, as a player almost close to the state, is too big to fail. Indeed, Amazon is of interest to many investors as a mainstay of the investment portfolio, and such a stock may also be of interest to buy and forget type investors.
Don't worry, buying an Amazon stock is easy – by following these step-by-step instructions, you'll be able to start trading Amazon shares today!
Step 1 – Choose trading platfrom to buy Amazon stock
Careful selection of the trading platform is one of the most important tasks for a novice investor. This may sound like a tedious and boring endeavor, but a little background work pays for itself with interest. When there is a good trading platform below, the end is all fun & smooth sailing. In particular, security, low trading costs and real-time exchange rate tracking are important criteria for many when choosing a new investment platform. The Finvesting team will next tell you their recommendations as well as three reliable investment platforms to help you start your journey towards your first Amazon equity investment and a more prosperous future!
eToro
Currently, eToro offers its services to more than 20 million registered users and is truly one of the pioneers of social commerce. The Israeli-backed eToro was founded in 2007 by Ronen Assia and David Ring, originally called RetailXX Yoni Assian. The company operates from several of its registered offices in Cyprus, Israel, the United Kingdom, Australia and the United States. In 2018, eToro had revenue of $ 800 million, which speaks to the company's fairly well-established position.
In eToro, you can invest in, for example:
Shares (including Amazon stock!)
ETF funds
Index funds
Commodities (such as gold and oil)
FIAT currencies
Cryptocurrencies
Step 2 – Open eToro account
The next step in purchasing an Amazon stock requires opening a eToro account. There may be site-specific differences when opening a user account, but as a general rule, the customer is required to complete a registration form and confirm the user account either by text message or email. Don't worry, this is quick and easy regardless of the platform.
The username of the investment platform is usually an email address. Finvesting encourages you to choose your password carefully, as you can rarely be too careful when it comes to money. So we do not recommend using the same password you used to log in to your social media for the last five years. Needless to say, the password should never be shared with anyone else.
Each new user must confirm their identity at the time of opening or after opening a user account by sending a picture of an identity card and proving their place of residence with the requested certificate. All investment platforms operate in accordance with strict regulations, so identity verification is always mandatory and cannot be avoided on a trusted trading site. These principles are simply intended to prevent possible abuses and money laundering. However, you can rest assured that your information is always safe from third parties. Certificates are nothing new, as each investment platform requires the same KYC process to be performed, which has been the norm for some time. (KYC = Know Your Customer). So you shouldn't be nervous about the validation process, because in reality, its existence denies that platforms care about the security of you and your investments.
Once the user account has been successfully opened, you can take your first step towards starting investing!
Step 3 – Make deposit and buy your first Amazon stock
All investment platforms usually offer a wide range of payment methods, so every Finn is sure to find the most suitable way to transfer money to the trading platform. Money transfers can be made, for example, with payment cards (MasterCard and Visa), PayPal, Skrill, Klarna or also with a traditional bank transfer via online banking. The investment platforms support most Finnish banks, such as Nordea, OP, Danske Bank and POP Bank.
Once the money has been successfully transferred to your new investment account, you are ready to get started and the Amazon stock is a few clicks away!
Amazon stock – History
Amazon is inevitably a familiar name to everyone, and most of us have certainly used the company's services when ordering inexpensive paperbacks or kitchen utensils, for example. Amazon's various services and comic Alexa videos are also likely to be familiar to most internet users. Even if you ordered cheap and used paperback paperbacks from Amazon, you may still be surprised that Amazon, founded in 1994, originally started as an online bookstore. The company was founded by the well-known Jeff Bezos and Seattle was chosen as the company's domicile, as the company sought to take advantage of the technical know-how brought to the region by Microsoft at close range. Amazon entered the Internet for public distribution a little later, in 1997. Soon, the company also began selling music and videos, and its operations expanded internationally to the United Kingdom and Germany. Shortly afterwards, Amazon expanded its operations into sales of video games, consumer electronics, various home appliances and toys, among other things. Today, Amazon finds virtually everything, and it's hard to come up with a category of consumer products whose products you wouldn't find in this online store.
Amazon has always been an exceptional player because of its logistical solutions. By no means can the company be described as stuck in formulas, as the company's success is based on a top-optimized logistics system that ensures fast and efficient deliveries. The company's logistical success is likely to be based at least on Amazon Air, i.e. large airfreight, good courier services and contracts through Amazon Logsitics, and the Amazon Flex smartphone app, which enables individuals to make simple contracts to deliver. The company is also not afraid of new innovations, as the company includes, for example, a development center in Finland that specializes in the development of Amazon Scout delivery robots. The company is therefore ready to do its utmost to maintain its place as the king of e-commerce, recognizing technological innovation as a significant part of its competitive position.
In addition to a wide range of products and well-functioning supply chains, the company is also known for its subsidiaries, as the giant company has also strengthened its position by making acquisitions. Indeed, during its history, Amazon has amassed the venture capital of more than 40 subsidiaries, which is likely to continue to grow. Amazon's affiliates include well-known names like Goodreads, IMDb, Shopbop, Twitch and Zappos just to name a few. In reality, Amazon's services cover a huge number of people around the world; even if you had never ordered anything from Amazon, you probably used the company's services in one way or another, perhaps without your knowledge.
Is an Amazon stock a good investment?
If you look for the answer to this question in the Amazon stock price for the last few years, for example, the development of the company's stock has been quite upward. For example, five years ago, the value of a share has tripled, while spending has been really interesting also during the past 2020-2021, when the Amazon share has risen by as much as 50%. Perhaps it is the relative flatness and stable position of the company that interests shareholders; Amazon is certainly often seen as a portfolio stabilizing stock, as faith in the company's success is really strong – many think the company is too big to fail. The large size of the company ensures that Amazon has huge resources to survive the competition and the accumulating subsidiaries tell quite generously about the company's expansion strategy, which is often crushing from the perspective of competitors. While Amazon's stock could be imagined to be a good dividend payer because of its stability, it's important to note that Amazon doesn't actually pay dividends to shareholders. It is therefore worth buying the company's stock at the end of the value storage and education glasses.
Watching an Amazon stock has been particularly interesting during 2020 and 2021 due to the corona pandemic; the company has definitely been one of the winners of the Corona era as customers of the stone footed move to do business online. While the situation is not permanent, the trend has definitely hit the Amazon, and many new customers are likely to use the company's services later on.
Unfortunately, Finvesting and no one else can predict how the company's share will develop in the near or distant future. However, it is an inevitable fact that a company of this size seeks to maximize its profits as well as expand its operations in the future, which is mainly reflected in the value of the share in a positive light. Amazon has been among the most interesting stocks in the world for years, and the situation is not expected to change significantly from this in the future. If you wish, you can buy a company's share in your investment portfolio, for example from the point of view of stabilizing it, if a similar sector is not yet available in the investment portfolio. The broad scope of the company's operations is also advantageous for the stabilization of Amazon stock and investor's portfolio, which means that the company is not very cyclical in many areas. The company is also constantly expanding its operating axis to maintain its market position. Remember that Finvesting does not provide investment tips, so make every decision in the light of your own background!
Amazon stock – Summary
Based on the company's size and operating history, it's easy to imagine an Amazon stock will continue to be an interesting investment in the future. Amazon is a huge company in a wide range of activities and the company has kept its ground as the king of e-commerce by expanding operations and making acquisitions. With e-commerce taking over the industry from brick-and-mortar stores and with trends in international sales, e-commerce is unlikely to weaken, at least in the future. An Amazon stock is an internationally well-traded stock that can be bought both for shorter-term trading and as a buy and forget type as the cornerstone of the portfolio. The stock may therefore have the potential to stabilize a wide range of investment portfolios.
How to buy Amazon stock?
The fastest way to trade an Amazon stock is to open a free account on the investment platform of your choice. Finvesting recommends eToro!
Registration is quick and easy, and through these exchange platforms, you can access not only the Amazon stock but also thousands of other stocks without forgetting cryptocurrencies and indices
Is an Amazon stock a good investment?
The Amazon stock has generally been perceived as a fairly stable stock with the potential to rise. Amazon's stock outlook seems bright, also because it's a huge company with market power already because of its size. So Amazon will be the strongest way to keep its surface as the king of e-commerce in the future as well.
What is Amazon stock price?
You can track Amazon stock price trends using a real-time price, either in your investment app or even through this website. As with other stocks, Amazon's stock price is constantly changing and the daily changes can be significant!