Cryptocurrency has transformed the trading world as due to having exclusive features more and more people are becoming progressively more interested in it. So, because of the quick emergence of cryptocurrency in the digital market, increasingly more crypto exchanges are being developed for trading, purchasing, and selling different cryptocurrencies all around the globe. Due to hundreds of exchanges accessible to trade, it's quite difficult to predict which one to choose and why? Therefore preferring the best exchange or trading platform can be quite a headache for both novice and veteran cryptocurrency users.
In this article, a CFD trading platform, Plus500; which is easy to use, having well-desired CFD instruments, and modern trading tools providing a stage for all the potential traders will be discussed herein in full detail.
Plus500 is just focusing on CFDs (Contracts for Difference) and offering more than 2000 instruments in its portfolio and still growing rapidly. As of 2013, it will be so interesting to know that Plus500 is considered the very first company to present the first Bitcoin CFD for trading all over the world. On introducing this propelling idea; Plus500 Ltd is listed on the Main Market of the London Stock Exchange, Plus500 succeeded to achieve the landmark of $1 billion market worth in 2014.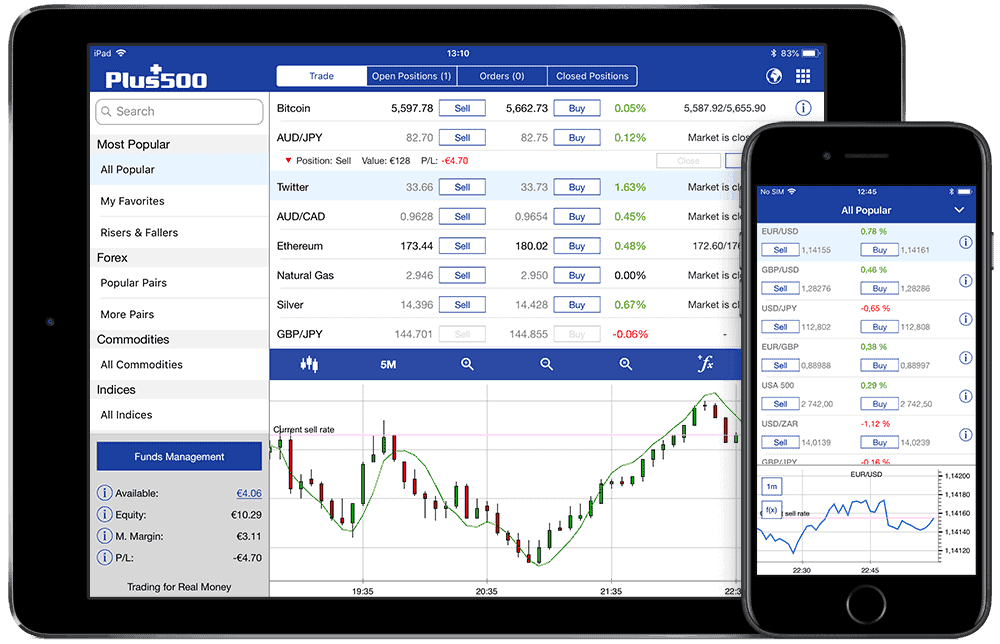 Introduction
This multi-asset broker and a global online financial trading platform was created in 2008 and it is being operated from its head office located in Israel and some other subsidiaries including Australia, UK, Singapore, Seychelles, and Cyprus.
Initially, the company was founded by six alumni of Technion – Israel Institute of Technology; named Alon Gonen, Shimon Sofer, Gal Haber, Omer Elazari, Elad Ben-Izhak, and Shlomi Weizmann with a based amount of $400,000 provided by Gonen.
Plus500UK Ltd authorized & regulated by the FCA (#509909)
Plus500CY Ltd authorized & regulated by CySEC (#250/14)
Plus500SG Pte Ltd, licensed by the MAS (#CMS100648-1) and IE Singapore (#PLUS/CBL/2018)
Plus500SEY Ltd is authorised and regulated by the Seychelles Financial Services Authority (Licence No. SD039)
Plus500AU Pty Ltd (ACN 153301681), licensed by: ASIC in Australia, AFSL #417727, FMA in New Zealand, FSP #486026; Authorised Financial Services Provider in South Africa, FSP #47546.
Firstly, the platform was being used on Windows OS. In 2010, a proper web application was launched for its online trading services. Till 2012, Plus500 had launched its applications for iPhones, iPad, and also for Android OS and tablets. As of 2019, Plus500 had revenue of US $354.5 million with an operating income of US $190.1 million. Moreover, the platform is available in more than 30 languages and on all devices and operating systems.
Core Features of Plus500
Here are some potential core features of Plus500:
A wide range of the financial market with low trading costs
It is an ideal platform for those who are seeking a low trading cost platform with a broad range of financial markets. Moreover, it's quite simple to use and every functionality responds properly to attain set objectives.
Providing a comprehensive risk management section
Plus500 offers Risk Management Tools which might be useful for the traders. In addition, Plus500 provides FAQ section and a multilanguage 24/7 support in case you need assistance or simply have any questions.
24/7 customer support services
Users are given 24/7 customer support via email, live chat, and WhatsApp in 16 languages and the platform is available in 32 languages.
Offering portability through its mobile platform
Plus500 offers interesting, optimized, and easy-to-use user interface features in its mobile app; now you will be well-aware of your trading business news throughout your busy life schedule. The mobile app is so popular among its potential users. As per Google Play stats of 2017, Plus500's mobile app received 64,500 reviews with a 4.2 rating.
Plus500 Fees and Limits
There are no charges/commissions for trades. Completely free of commission trading is offered for trading on the platform Plus500 does charge additional fees. Currently, there are Overnight Funding, Currency Conversion Fee and Inactivity fee as well the Guaranteed Stop Order future but this feature is not available for all instruments, and a fee is charged via a wider spread. For more information: https://www.plus500.com.cy/en/Help/FeesCharges.. There are spreads that the user will pay between the buy and sell price. These spreads depend upon trading instrument and market as well where you are trading but spreads depend on the trading instrument and are constantly adjusted according to the market spread and are variable. For the users' facilitation, there is a demo account that is recharged as the user drops a certain amount in it. The demo account and very helpful instruments play an integral role while you are trading.
| | |
| --- | --- |
| Funding Fee (Overnight) | Varies and depending upon Instrument |
| Withdrawals and Deposits | Free for up to 5 withdrawals per month |
| Account Inactivity Fee | After 3 months of continuous inactivity, $10/ month will be charged |
| Conversion Fee of Currency | Up to 0,7% |
| Minimum Account Balance | $100 |
The minimum amount required to open an account depends upon the type of trading account. For example, some brokers are required to deposit 6500 USD/GBP even some are required to deposit as high as 10,000 USD/GBP. This all will be according to your trading plan and requirements to avail from the platform. Similarly, there are different methods to withdraw funds as per users' feasibility. Plus500 allows its users to withdraw their amounts by VISA, Credit cards, Bank Transfer, MasterCard, PayPal, Skrill, and eWallets, and the same methods are accepted by Plus500 to deposit funds into the user account.
Available Cryptocurrencies (Availability subject to regulation)
Offering Rangs by Plus500
Including 2000+ instruments and tools, Plus500 also providing a wide variety of asset classes as the following:
Cryptocurrencies (Availability subject to regulation)
Forex
Options
Indices – Country and Sector
Individual shares
Commodities
ETFs
Opening an Account on Plus500
To create an account on the Plus500 platform, firstly an email address and a password is acquired. For more easiness; users and traders can also log in with their Facebook or Google account to access the platform. To complete the verification process called KYC (Know your Customer); new joiners have to provide a copy of their identity (Govt. issued ID card) and a proof document of residence. After a strict verification process, the user's account is created and a confirmation email is forwarded to his/her provided email address.
Is Plus500 a transparent platform?
Plus500 is a transparent platform as it is being operated in multiple locations around the world. In which subsidiary you will be kept, will depend upon your location and every subsidiary is authorized and regulated by its standard regulatory body. For example, if you are residing in the United Kingdom, your account will be named "Plus500UK Ltd" and you will receive £85,000 as investor protection. Moreover, your subsidiary is authorized by FCA; the financial authority of the UK. It means, every subsidiary is regulated by its relevant country and all the operations are being performed under specific terms and conditions to fulfill users' requirements. Plus500 was formed in 2008 and it is considered the oldest broker platform and since its start, it is offering quality services successfully. It sounds clear that based on its record, it is a reliable platform.
Plus500 Pros & Cons
Before joining the platform; traders, investors, and crypto lovers must deeply analyze and engage with these key points:
PROS
Accessibility to more than 2000 trading instruments and tools
Low commissions, charges, and spreads
Very friendly and easy-to-use UI design and whole functional platform
A guarantee is offered to stop-loss orders
Plus500 platform is available for CFD trading only
Regulated in all of its operating countries and offering multilingual site
Trade in the different commodities like gold, grain products, and oil as well.
CONS
Limited resources of education and other trading researches
US residents not allowed to use the platform
No account swapping
Only derivatives are accessible on the platform
Conclusion
Under these all-given results, Plus500 is focusing on those who are keen to take interest in trading without acquiring any additional or advanced functionality. More importantly, it is recognized as a transparent platform due to its regulatory structure of creating a subsidiary in potential countries and then make associations with the country's regulatory bodies. Similarly, spreads provided by Plus500 are more engaging, competitive, having low costs, and easy to operate with full functionality. But there are some points where Plus500 is lacking behind e.g. lack of research and educational resources, users have to face difficulties and obstacles to move forward. Similarly, a low number of cryptocurrencies are offered on the platform and traders have to rely on given cryptocurrencies to trade and generate revenue. However, experienced and veteran investors prefer this platform due to its credibility, reliability, and comparatively lower expenses.
Plus500 FAQs