eToro is a currency exchange platform that handles currency exchanges for a variety of reasons; such as for trade or tourism. Foreign exchange is an exchanging platform where the exchanging of one currency to another is processed for a variety of reasons, like; trading, commerce, or tourism. As per a report published by the Bank for International Settlements, more than $5.1 trillion trading volume is determined daily on forex platforms. Similarly, the forex social trading platform is a social environment that encourages communication and facilitates interaction among active forex traders, beginners, and veteran traders.
Everyone searches for the best forex social trading platform to interact with others, to observe their worthful activities, suggestions, and learn different strategies to move forward in this modern market.
But here we are suggesting you, one of the pioneers of social trading and investment platforms; eToro.
eToro is a significant element in the world of cryptocurrency trading, fintech, and other crypto-related services. It is considered a fintech revolutionary platform that has been leading for more than a decade and has developed a reputation as the principal and heading social trading platform in the digital world.
Initially, eToro was a general trading platform then cryptocurrency and other trading instruments with engaging strategies were introduced to compete with the modern market and growing demands. It is regarded as one of the innovators who merged social features to their trading platforms in the shape of CopyPortfolios and CopyTrading. Now it has also landed in Finland and it challenges Nordnet and other investment platforms favored by Finns to fierce competition!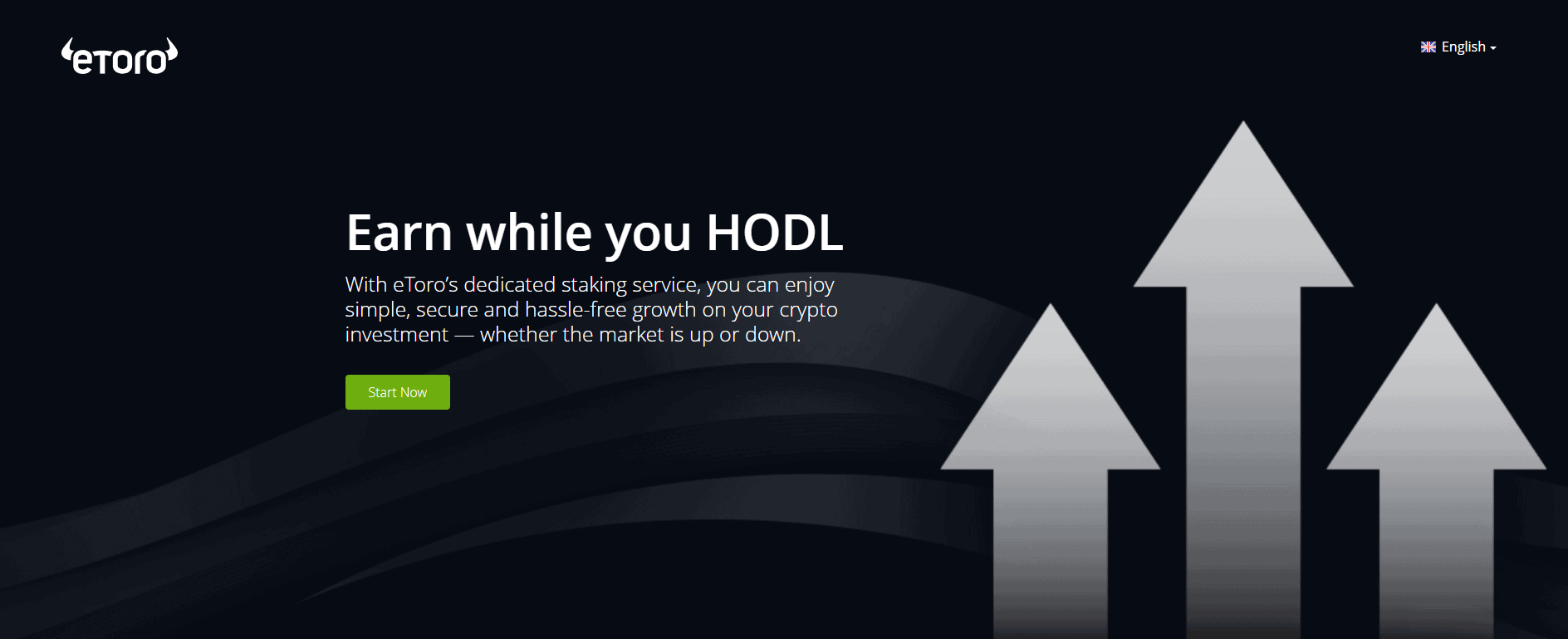 eToro Introduction
Presently, eToro is facilitating with its key services to over 13 million registered users and is on the driving seat in this thriving industry. Israeli social trading, multi-asset brokerage company, and veteran forex broker; eToro was established in 2007 under the name RetailFX by Yoni Assia, Ronen Assia, and David Ring. It is being operated from its registered offices in Cyprus, Israel, the United Kingdom, Australia, and the United States. As of 2018, the company had a volume of $800 million.
Core Features of eToro
Diverse trading options availability
One of the biggest edges of using eToro that makes it a unique platform is the availability of a diverse number of investment and trading options.
Sell, buy and hold more than 15 Cryptocurrencies
Convert your USD into BTC, ETH, XRP, EOS, LTC and so many other cryptocurrencies. Etoro is supporting almost all famous cryptocurrencies where you can trade as per your requirements.
Mobile and Desktop Trading
There is not a single trading platform, eToro facilitates its users on every platform but internet connection is the first requirement. Traders can trade on mobile application, desktop application, and also on a web-based platform. You don't need to wait as eToro is offering 24/7 services on multiple platforms.
Availability of virtual portfolios
On sign up for a new account, you will receive $100,000 dollars to make practices; how to use the account, how to make transactions and strategies, and how to operate your account. This virtual portfolio will help you in performing different activities that will assist you in doing real tasks without any risk.
Advanced and well-designed charting
For technical analysis and making strategies, utilize advanced charting features to manage your work and organize it in a better way.
eToro unique feature; CopyTrading
It is one of the exciting features of eToro, where a novice can avail and learn from popular crypto investors; a user can allocate a segment of its capital to copy other crypto trading experts. This feature allows its users to observe the track record and activities of potential investors and copy them to grow in this market.
CopyPortfolios; an exciting feature
This feature facilitates both cryptocurrency trading and traditional fiat trades. CopyPortfolios offers similar services but permits traders to copy portfolios that are similar to mutual funds or other bundles of assets.
Newest feature; Popular Investor Program
It is one of the unique features of eToro, by which an additional revenue can be generated by creating a volume of followers.
Is eToro safe?
There is always a risk involved in investing. This is not affected by the investment platform you are using at all.
However, you can choose the best possible platform for yourself in terms of safety. eToro is known for its security – its operations are closely monitored by authorities in several different countries. Thus, eToro does not lose security to, for example, Nordnet, which is favored by a Finn.
The Cyprus Securities Markets Commission, or CySEC, monitors eToro's operations under Cypriot law and EU law. CySEC is the authority of the Financial Supervision Authority of Cyprus and in the event of the insolvency of the Investment Platform, the investor will be entitled to capital security up to EUR 20,000 from the Cyprus Investor Compensation Fund. eToro is also subject to European investor protection rules, so potential risks must always be brought to the investor's attention.
The funds deposited by the investor are always separate from eToro's own funds – they are not kept in the same bank accounts. From the investor's point of view, this is a good thing, because when a service provider drifts into a weak economic situation, investors' own funds are safe.
Does eToro work in Finland?
eToro also operates in Finland, and the website has a completely Finnish version. In recent years, eToro has also grown in popularity among Finns, and no wonder! Extensive investment targets, a well-functioning platform and a very beginner-friendly interface guarantee a comfortable user experience for every Finn! So open a free account today and give it a try!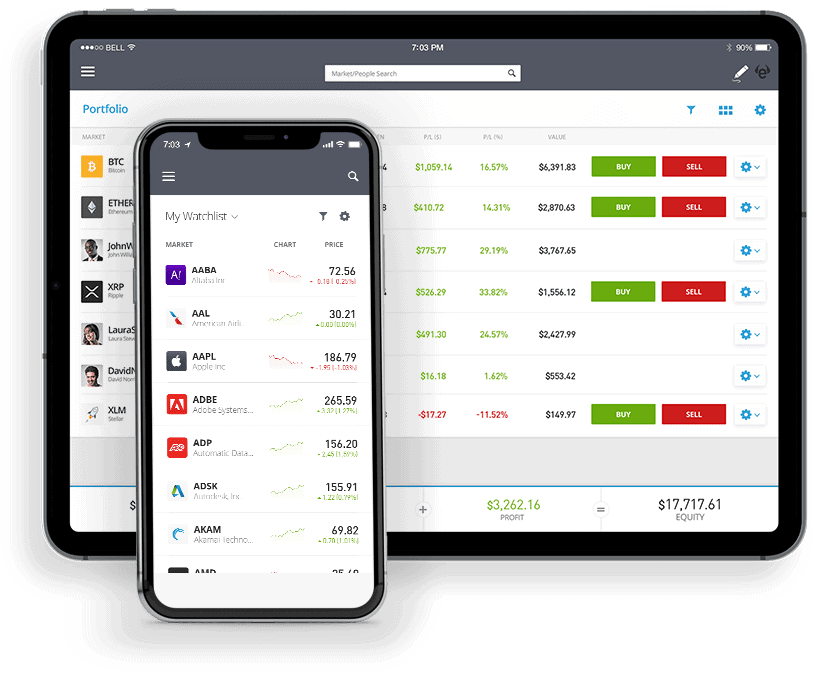 eToro Investing Targets
At eToro you will find the widest range of investments in the market, covering more than a thousand potential properties. The selections include traditional Finnish equities, index funds, ETFs, commodities, currencies, cryptocurrencies as well as the most significant foreign equities. Placement through eToro has been made easy, although the offer is very wide from side to side.
Stocks on eToro 
In eToro, most shares are traded with traditional shares, which are also familiar to Finns. You can start investing in shares through eToro, for example by investing in a Nokia or Neste share. Purchasing has been made easy and straightforward for Finns – the service's user interface is well understood and all content is done in fluent Finnish. You will also find the global stock market in the service, which means that buying Teslan shares, for example, is very smooth. The offer of shares on the other side is also extensive, as there are almost 20 shares listed on various stock exchanges from Helsinki to Asia. You can invest in individual stocks, but there are also diversified stock indices and ETFs available, which we will talk about later in the article. However, eToro's biggest benefit from investing in stocks is buying and selling shares for free.
Index funds on eToro 
A lot of trading is also done on eToro's social trading platform, including index funds and related derivatives. You will find all the international funds that follow the price development of the indices on the marketplace. eToro thus enables risk diversification by investing indirectly in the prevailing stock markets. The subtlety of index funds probably lies in the fact that industry-specific risk is significantly reduced by investing in the market through the funds. It is noteworthy, however, that when investing in index funds, the possible exchange rate changes in one direction and the other are significantly smaller compared to the stock market. For a novice investor, however, this is a great way to start investing in a variety of stock markets, through index funds. Thus, eToro is also a pioneer in investing in index funds, there are no costs at all in both the buying and selling stages.
ETF funds on eToro 
The ETF investment in eToro has been made user-friendly, so even a novice can access these highly speculated funds. In practice, this investment object includes items selected from the world stock market in a decentralized manner. The benefits of ETFs include widely diversified risk, ie there is not much geological risk in this investment. The most popular ETF funds offered by eToro are as follows:
Vanguard S&P 500 ETF
Invesco QQQ Trust
Vanguard Small-Cap ETF
Vanguard Total Stock Market ETF
In addition to these, you will find more than 250 other ETF fund units on the eToro trading platform!
Commodities on eToro 
eToro's social trading platform offers you the opportunity to invest in a wide variety of commodities. So you can trade by speculating on, for example, daily necessities; the price of sugar. Admittedly, sugar will by no means remain eToro's only investment target for those interested in commodity trading. At the marketplace you will find almost 20 different commodities such as oil, grain, gold and silver! So you can take advantage of the prevailing fear in the stock market and invest in gold that is known to be secured by many investors as other markets fall. Trading in commodities means a price difference agreement. These therefore have no trading costs at all, but the spread, depending on the commodity, starts at two points. Through eToro, you can practically invest in everyday commodities without expenses.
Fiat currencies on eToro 
Are you interested in the price development of the dollar against the euro? eToro also offers the opportunity to trade here. Through forex trading, you can invest in a number of different currency pairs and even benefit from the interest rate policies made by the Fed regarding the value of the dollar. The platform of social trading also brings with it the possibility of CopyTrading, ie you can invest like a successful user in currency exchange in real time. However, it should be noted that when exchanging currency in the eToro service, you always trade in CFDs. So you will not directly own other currencies, but the investments are CFDs.
Cryptocurrencies on eToro 
The current market is also shaken by rumors around cryptocurrencies. Will cryptocurrencies at some point be globally accepted as a means of payment at the state level? You can also get a potential return on this investment, among other investments. However, cryptocurrencies are a very volatile market, so please always familiarize yourself with the investment target before making a decision. With its own service, eToro has made it easier for ordinary people to invest in cryptocurrencies. Buying crypts on the eToron marketplace is as easy as buying Nokia and offers up to 100 different cryptocurrencies. Of these, you are sure to find a suitable crypto investment target after researching the topic. For crypto sales, a spread of 0.75 points is charged, depending on the cryptocurrency. It should be noted, however, that eToro does not have any actual buying or selling costs when making a cryptocurrency transaction. Thus, trading in crypts is as free as even in index funds.
Spread in practice means that the selling price is cheaper than the purchase price. In the meantime, eToro therefore charges a spread for the transaction made by the customer, which varies according to the investment target. In cryptos, spreads range from 0.75 to 5 percentage points.
CopyTrading on eToro
CopyTrading is a feature that allows investors to view the portfolios of other investors and make their own investment decisions based on them – you can, for example, copy the entire portfolio if you wish! The portfolios of the best-known investors have always been of interest, especially to novice investors, so leveraging the feature is very common. Every time an investor you copy makes changes to their portfolio, whether it's a sale or a buying situation, the same changes automatically happen to your portfolio. Great, isn't it ?!
eToro was one of the first trading platforms on the market to offer the CopyTrading feature. In Finnish, social trading has since grown tremendously in popularity and many other investment platforms have also included it in their selections.
With social investing, it is really convenient to follow different investment strategies, so you stay up to date on changes made by well-known investors.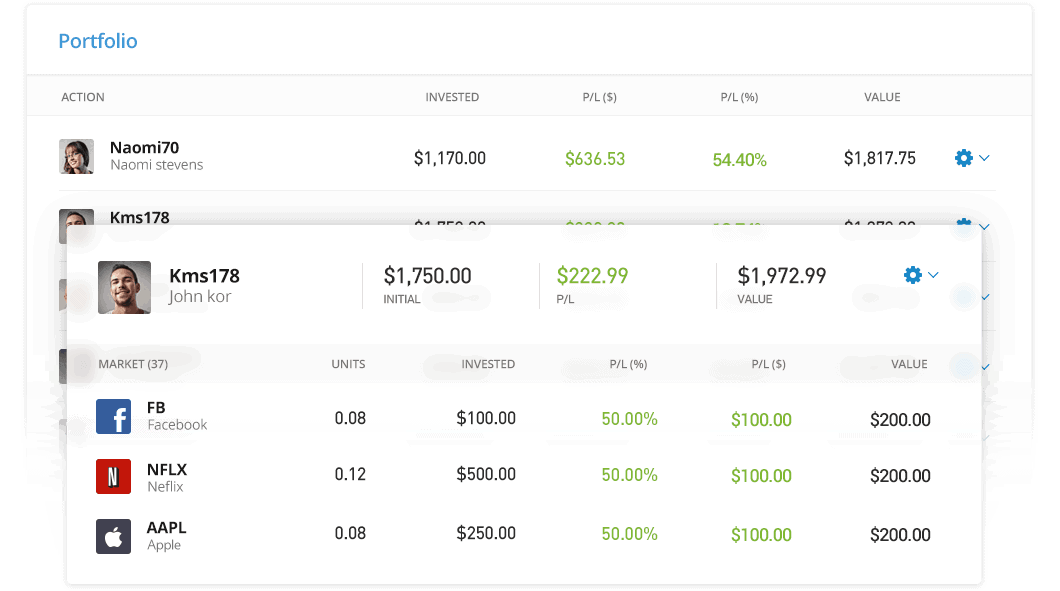 eToro Fees and Limits
On eToro, there are different rules of charging fees depending upon the situation and eToro services like; as an exchange, wallet, deposit, or withdrawal. Firstly on fee is charged for opening a position. For users who hold leveraged Ethereum or BTC positions or for shorting cryptocurrencies, fees are charged from them.
Here is Fiat to Crypto Conversion Fees
eToroX fee 1%
Simplex fee 4%
Here are limitations for different currencies to perform a transaction.
| | | | | |
| --- | --- | --- | --- | --- |
| Currency | Min Transaction | Max Transaction | Max/Day | Max/Month |
| GBP | £96 | £7,350 | £14,700 | £36,750 |
| EUR | €112 | €8,624 | €17,248 | €43,120 |
| USD | $125 | $10,000 | $20,000 | $50,000 |
eToro is not charging any fee on deposit, it is only charged when the asset is withdrawn. Here is list of fees, charged on different cryptocurrencies.
| | | |
| --- | --- | --- |
| Currency | Quick withdraw limit | Withdrawal fee |
| AUDX | 50,000 | 3.75000 |
| BCH | 166 | 0.01000 |
| BTC | 10 | 0.00060 |
| CADX | 50,000 | 3.90000 |
| CHFX | 400 | 0.02500 |
| DASH | 278 | 0.01700 |
| ETH | 45,000 | 2.65000 |
| EURX | 40,000 | 2.30000 |
| GBPX | 5,50,000 | 330.00000 |
| JPYX | 555 | 0.03300 |
| LTC | 50,000 | 4.25000 |
| NZDX | 50,000 | 3.00000 |
| USDEX | | |
| XRP | 166,667 | 8.50000 |
Verifications and Limits in eToro
Basic information is taken on opening a new eToro account. The process is quite simple and can be managed easily. For some verification, a government-issued ID card/passport, and even a utility bill is generally acquired. Normally, within two business days, an account is verified and allowed to avail eToro services.
Following documents are asked during verification on eToro :
Proof of Identity Document (Name, ID, passport)
Proof of Address Document (Address, utility bill, bank statement)
Proof of Identity and Selfie (Clear picture or selfie)
How to withdraw your asset from eToro to the local bank account?
After verification of eToro  account and 30$ there to withdraw then you can transact that amount in your bank account and then withdraw that. Any amount of 30$ or more available in your eToro account, you can withdraw this with very ease. It'll take a maximum of 3 to 7 business days to process the transaction to send funds to your bank account.
eToro also offering Partner Programs
eToro is not only offering referral bonuses and typical introductory programs but also a variety of partner programs with unique features only available in Europe right now. Here are different partner programs:
In the broker program, as a broker, you can avail of good payouts and premium customer services.
In this program, on a one-to-one basis, affiliate partnerships are offered and as an affiliate, you can generate revenue by referring others.
After becoming a popular investor on the eToro platform, you also generate revenue. If other investors learn from you and copy your strategies and investments, a 2% management fee will be added to your account for copying your investments. This all process is available on the eToro website from where you can learn how to become a popular investor and then how to copy others if you want to move forward in this trading world.
How strong eToro's Fund Security is
To secure the platform, security teams recognize and prevent threats from any malicious third party, using the analytic behavior of machine learning and multi-signature. It is made sure that eToro's wallets are well-secured from any threat as security teams are always active to provide you a better platform. So, you can deposit fiat money into your account without any doubt of security as it is always private, secured, and under strong operating procedures. Every transaction is communicated through SSL (Secure Socket Layer), which keeps your private information so safe.
eToro user experiences
eToro has more than 15 million users worldwide, so it is sure to accommodate both positive and negative user experiences. Often, different review sites run into pretty bad ratings, as due to the large number of users, often only negative experiences are shared with others – if all goes well, few will be able to head to write their review reviews. However, eToro has been found to be a well-functioning investment platform based on a number of different user experiences, so you can try it for yourself without any worries. Customer service is fast and efficient if you encounter problems with your account when using the platform. Finvesting recommends every investor at least try this well-known social trading platform! Remember to familiarize yourself with the risks and taxation of investing before you start trading.
Pros & Cons
PROS
Diverse trading market; having multiple unique options in trading
The secured and private platform, users' privacy is maintained
Engaging and quite easy to operate user interface
A trustworthy, reputed, and transparent platform
CONS
Little bit high fees
Not supporting too many cryptocurrencies
eToro has no cryptocurrency depositing facility
Conclusion
eToro supports multiple cryptocurrencies, making it a convenient platform for those looking to trade and invest in cryptocurrencies. Additional features such as graphic presentation and CopyPortfolios provide an additional edge to global trading. eToro offers its users very high quality customer service and it is possible to contact us via Facebook, Twitter and also Telegram. Every issue is resolved quickly. There are several written guides and articles produced by eToro for beginners, and there are a variety of definitions to help you use the platform.
Because the platform is easy to use and both quite affordable compared to many of its competitors, it is recommended for beginners. However, eToro is not a permanent destination if you want to trade in lesser-known cryptocurrencies, as eToro only supports the most well-known cryptocurrencies for crypto and Fiat stores. On the platform, funds are also always in dollars, as the euro is not directly subsidized. As a result, exchanging a currency incurs small additional costs for the user and the value of the portfolio fluctuates in line with the dollar exchange rate every day.
Is eToro regulated?
Yes, eToro is regulated by Cyprus Securities and Exchange Commission (CySEC), the UK (FCA), FinCEN of USA, and the Australian (ASIC).
Is eToro Safe?
As the company is fully regulated in its all-operating countries. Moreover, being a transparent and secured platform, it is a safe revenue-generating platform.
How can I deposit in the eToro account?
eToro accepts credit/debit cards, PayPal, wire transfers, Webmoney, Yandex, Rapid Transfer, China UnionPay, and Yandex.
Can I buy stocks without fees on eToro?
Yes you can! Purchase and sale transactions of all shares and funds are completely free at eToro!
Is eToro available in Finland?
Yes it is, you can use eToro in Finland!