There are hundreds of exchanges available to trade worldwide but it's quite challenging to choose which one is best and why? Therefore, preferring a specific crypto exchange is considered a headache as it's so difficult task for both veteran crypto users and novices as well.
Binance is a well-known and commonly used crypto exchange in the world, it was developed in 2017 and now, it is considered the world's largest cryptocurrency exchange due to its volume and users. It was being operated from China initially, but due to crypto regulations and restrictions, it was shifted to the crypto-friendly Island Malta in the EU. Although Binance is still relatively young to develop, it has been able to grow into one of the world's largest cryptocurrencies in less than five years. This is supported by Binance's large accumulated customer base – in less than five years, it has been able to gather tens of millions of customers.
This article will try to summarize some key points of Binance, which will be helpful for crypto investors and users. Moreover, what it is, its background, limitations, verifications, some key processes to follow, features of the platform and its pros and cons will also be discussed in detail.
As it is a crypto-to-crypto trading platform supporting over 200 cryptocurrencies, means, it doesn't accept any real-world currency, like; EURO, USD, etc. But commanded by its magnificent creator Changpeng Zao is empowering this innovative platform with his inventive ideas and new amazing features.
There is also a step-by-step guide to depositing, exchanging and withdrawing coins, as well as useful pictures. At the end of our Binance review article, you will have all the information you need to start trading with Binance.
Introduction
Without presenting even a single slowdown during performing transactions, Binance is so capable to handle a very high volume of trades. But being a new platform in the industry, in the start, Binance has faced some issues including unexpected maintenances and security vulnerabilities but providing instant quality services to potential investors, traders, and crypto users have been the top priority of Binance exchange. That's why it is considered the most important crypto exchange in the crypto community.
However, the position of the world's largest currency exchange has not come for free, and Binance has been known from the beginning for its continuous development among the crypto community. The development work is not over at all with the advent of an explosive customer base, but Binance will continue to be able to create new features for customers and improve the customer experience.
Binance has also increased its awareness among Finns by introducing SEPA bank payments for use by all Finns in 2020. This was a significant development work for European customers, so we can expect Binance's position to be further strengthened.
Key Features of Binance
Here are some key features of Binance:
Low trading fee offering platform
Binance trading fee is too low, as only 0.1% is charged on a single trade.
Supporting 200+ cryptocurrencies
Binance is supporting almost every top cryptocurrency, there are over 200 cryptocurrencies listed on the platform.
One of the strongest Matching Engine
Binance is being operated by one of the strongest matching engines that can handle 1,400,000 orders/second, and it is considered as one of the fastest exchanges in the market having no "stuck of processes" issues on the platform; quick and responsive trading services providing exchange in the market.
Binance allows its users to launch crypto-based projects on its platform where users can review the project details, timelines, whitepapers, and the whole roadmap.
Offering cross-platform trading services
Binance is providing its trading services to all available platforms including Android, Web-based trading, Mobile HTML5, PC (Windows), iOS, and Mobile iOS app as well.
Fiat payment gateway supported
More than 15 top cryptocurrencies including Ethereum and Bitcoin can be bought from 35 fiat currencies using bank cards, cash balance, and other instant payment gateways supported by Binance.
Staking, Future and Margin trading
Both types of tradings including Future trading and Margin trading are supported by the Binance platform.
The binance platform today is more diverse than just a cryptocurrency exchange platform. In recent years, the result of the development work has been e.g. futures, staking, launchpad and various savings services. Of these, the greatest popularity has certainly reached futuurited immediately after its release. However, these investment products are only recommended for professional investors, so a novice should not go for these without careful background research. In practice, futures even allow the use of leverage more than 100 times, which means that the risks are considerable and the investor should therefore remain vigilant.
A safer alternative to futures for a novice investor is definitely the service offered by Binace – Binance Earn. This program is similar to Crypto.com's program called Crypto Earn. Binance Earn offers its user the opportunity to borrow cryptocurrency in the market against interest. The investor has the opportunity to choose an investment target according to the needs of use, either Flexible or Fixed terms. Simply put, the interest you pay on the Flexible terms program is lower because you reserve the right to transfer funds back to your account at any time due to a lack of loan time. If you are applying for longer-term interest income, the Fixed terms program is definitely a better option. You can lend your cryptocurrency to the market for a pre-determined loan period, and thus the recipient side pays a better interest rate on the loan they receive, because they can use that currency, for example, to leverage debt for a longer period of time without worrying about contract termination.
Savings services include DeFi Staking, which offers the highest interest rates in the Binance marketplace in almost every market situation. For example, if you can commit your cryptocurrency to the DeFi Staking program for a long time, you will be paid up to 20% annual interest on many stable and known cryptocurrencies. In the long run, therefore, you will also be able to benefit from the Interest on Interest phenomenon through Binance, and the annual income it pays will surpass that of many traditional banks.
Binance Visa Card
With the Binance Card, you can use your favorite cryptocurrencies at over 60 million merchants worldwide. Just transfer the cryptos from your spot wallet to your fund wallet and you are ready to use it. You can now use your crypto anytime, anywhere.
The Binance Visa card allows users to use their cryptocurrencies at locations that only accept fiat currency with a credit or debit card. Behind the scenes, your encryption assets are converted to fiat when you make a purchase (without commissions), so you don't have to keep Fiat on hand. You can order yout Binance Visa Card for free after opening account and completing KYC. Binance Visa Card is a great for daily use, as you can use crypto for payments anytime, anywhere.
Benefits from using Binance Visa Card:
There is zero fees and the card is completely free!
Spend crypto anytime
Earn up to 8% cashback from purchases made with your Binance Visa Card!
Safe and easy to use, all your funds are protected by the highest security standards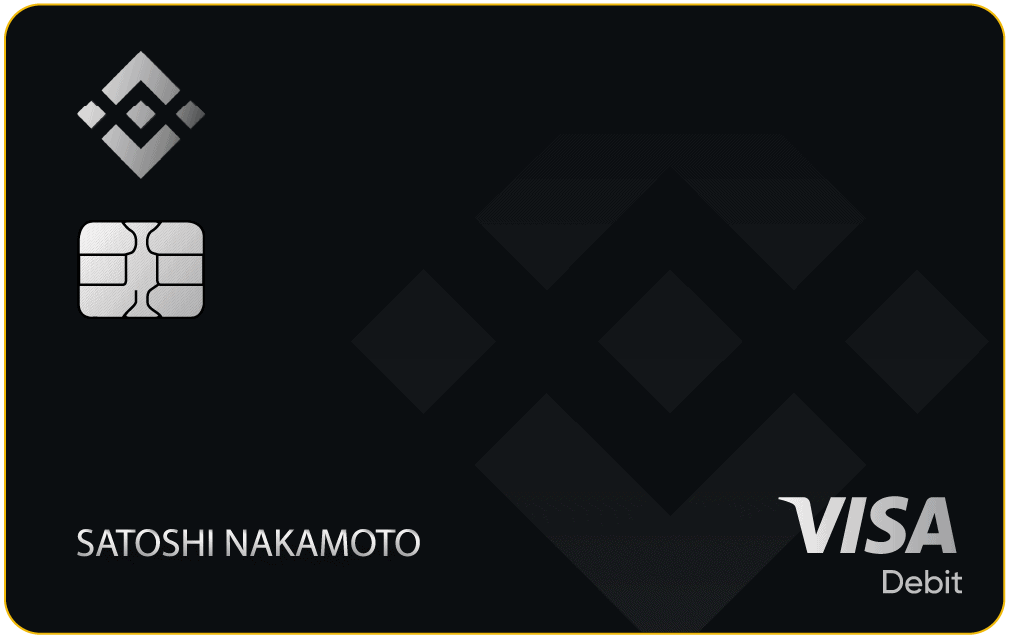 How to register on Binance Exchange
Here is a process by which any user can join Binance Exchange quite easily:
To register on Binance exchange, go to the Binance home page and click on the "Register" button, on the top right-hand side of the page.
Provide all the required information including email address, password, and mobile number as well. If you are joining as a referral, you may also give the referral ID.
Read then accept the terms and conditions of the platform and then click on "Create Account".
A verification code will be sent to you for email confirmation on your given email address. Enter that code and click on the "Enter" button.
Now complete the KYC (Know Your Customer) process by providing your country's govt-issued ID card number, driving license, passport, and current picture as well.
Before uploading your picture, you must confirm that your face is visible and the picture is the latest. After confirmation, upload and click on the "Complete" button.
Binance KYC
After successful registration, there is still a process of verifying identity, which meets modern requirements for various types of financial supervision authority. This process has been widely adopted in recent years and is intended to prevent money laundering and to step up the fight against terrorism. In addition, the completed KYC process is required on all market platforms that accept SEPA bank transfers. SEPA bank transfers will therefore only be available after a successful verification process. Note, however, that the Binance marketplace is capable of trading with certain restrictions without certification. In this case, the only available transfer method is cryptocurrencies, in practice you will be able to transfer your pre-owned Bitcoins to your Binance account and even convert these to your Ethereum cryptocurrency. However, this is not recommended for an active trader, as Binance is able to limit trading limits very surprisingly for every non-verified account. Below you will find an easy-to-follow guide video for the KYC process that will guide you step by step all the way to the end!
Binance deposit options for customers who have completed the KYC process
Following a successful KYC process, more different deposit options are available. Secured users will be able to deposit funds to their account with bank transfers, SEPA express payments, debit and credit cards. The deposit process has been made very simple and easy, so even a new user can trade in different cryptocurrencies after a successful deposit. Depending on the deposit method, transfers are very fast and modern Binance processes deposits in real time, so you can assume that the funds will appear in your account for use in up to minutes. Although the fastest deposit method today is a credit or debit card, the user should still take into account the costs of this deposit option, which in Binance is 3 – 4.5%. While a correspondingly slower deposit option – bank transfer is free for the customer. Also described below is the SEPA bank transfer deposit:
Select Wallet at the top and click Fiat and Spot. You will then find the Deposit button on the page, under which you will find the Fiat deposit option.
After the Fiat deposit option, select the currency to be used (EUR). Then select SEPA Bank Transfer.
Enter the amount to be deposited and click Continue. Next, the information of the receiving bank to which the SEPA bank transfer will be made will appear on the page.
After the transfer, the funds will appear in your Binance account from a few minutes to several hours, depending on your bank. Sometimes, however, transfers can take up to more than 24 hours.
Binance deposit options for not certified customers
Binance does not allow non-secured users to deposit funds using payment methods such as debit and credit cards. Funds can only be deposited using cryptocurrency. The best way to do this is to deposit funds in either Ethereum (ETH) or Bitcoin (BTC), as there are other exchange services where funds can be purchased in fiat currency. Here's how a user can deposit their own cryptographic funds into a Binance current account:
Go to the "Funds" section at the top of the home page and click on "Deposits".
Click on "Select Deposits Coin" and enter the ID of the currency you want to deposit into your account. For example, to save Ethereum, enter ETH.
Copy the deposit address where you want to make the deposit. For example, if you send Bitcoin from your crypto wallet to Binance Exchange, you will need to verify the correct Binance deposit address before transferring crypto funds.
Your Binance account will receive cryptocurrencies within 10 minutes, confirm this by going to the "Funds" section and clicking on "Balance".
Withdrawal options for customers who have completed the KYC process
Certified customers who have completed the KYC process are able to make withdrawals in a variety of ways to crypto wallets and various bank accounts. As an added benefit, after completing the KYC process, lifting restrictions are significantly higher than for non-certified customers. So we definitely recommend every more crypto trader to perform a verbal easy KYC process.
Withdrawal options for customers who have not completed the KYC process
If you have not verified your Binance account, the only option for withdrawal is to send the cryptocurrency to an external wallet. Although Binance is a pioneer in security and its development, many can still use so-called 'cold wallets' to preserve large amounts of cryptocurrency outside Binance. As a rule of thumb, it is advisable to keep only cryptocurrencies for active trading on the stock exchange platform. However, centralized marketplaces always have their own risks of being caught by hackers and at the same time there is an obvious risk of losing users' funds.
In practice, the withdrawal of cryptocurrencies from a Binance account is possible according to the following instructions:
Click on the Wallet option in the top bar and proceed to the Fiat and Spot section. Here you will find the real-time balance of your wallets. In the Crypto Balance list you can find all the cryptocurrencies you have.
When withdrawing funds, click on the cryptocurrency to be withdrawn and select Withdraw. After that, be careful when choosing the right network (blockchain technology), with incorrectly selected address formats or networks you may lose the funds you 'raised' altogether.
As an example, when lifting Bitcoin to an outside wallet, we choose BTC as the network. You will then be able to enter the recipient's wallet address in the – Recipient Address field. At the same point, you can also check the cost of a possible transfer. After verifying the network and recipient address are correct, click the Submit button, after which Binance will ask you to verify the correctness of the withdrawal according to the security levels you have selected. Binance's processing times are relatively fast on withdrawals, so you can expect transaction processing in the block chain. After accepting the transfer, the cryptocurrency you raised will appear in the wallet you specified.
Binance Reward – Sign up now and claim $100
Enjoy our special Binance reward to get you started with Binance. After signing up, new users must complete tasks within 7 days in order to qualify for Binance welcome offer rewards. Open your account from Finvesting's website and claim bonus today!
Complete tasks. Earn Rewards.
$5 Cash Voucher
Make a first time Fiat or P2P deposit of ≥ $50
$50 Spot Cashback Voucher
Make a first time crypto deposit of ≥ $50 within 5 days
$45 Spot Cashback Voucher
Make a first time crypto trade of ≥ $100 on Spot
Binance – Trading cryptocurrencies
Once you have successfully deposited funds into your Binance account, you can start trading in up to over 200 different cryptocurrencies. Binance, like other marketplaces, offers a variety of options for trading. Depending on the user's experience of buying and selling cryptocurrencies, it is a good idea for the user to consider which option to use.
Beginner version
This option is specifically designed for new users in the cryptocurrency market. Based on long development work, buying and selling has been developed to be very novice-friendly. Let's go through this process in simplicity below:
Buying
Select Trade at the top and then click Convert. The Convert option opens in a very simple form where you can select the cryptocurrency to be purchased and the currency to be charged.
At this point, you will not be able to check the real-time rate yet, but when you click Preview Conversion, Binance's real-time rate for that cryptocurrency will appear on the screen. If you are satisfied with the exchange rate available, confirm your purchase and the cryptocurrency you have purchased will be in your account without delay.
Selling
Select Trade at the top and click Convert. The form opens as a simple form in the same way as when purchasing.
Use this form to translate the cryptocurrency currency for sale and, for example, the location of the Fiat currency. Same as when buying, but you swap the pairs to their heads. Click Previer Conversion and you'll find the real-time selling rate again. If you are satisfied with the sale price available, confirm the sale and the funds will appear in your account without delay.
Advanced version
This option has been on the Binance trading platform since its inception, so at least there has been nothing to say about its functionality. However, the interface is a little trickier to use than the beginner exchange service, so you should be careful when shopping here. Let's go through this option step by step:
At the top you will find the previously mentioned Trade button, below this you will be able to select the Classic option. After clicking the Classic button, you will find the exchange exchange pairs in the top corner. The Classic offers the beginner a choice from a wider market with different exchange pairs ranging from Fiat currencies to popular cryptocurrencies.
However, among the exchange pairs, the most abundant supply can be found in the BNB token, as this is a cryptocurrency developed by the marketplace itself. So you can trade the alt and meme tokens listed by Binance by exchanging the BNB token for one of the rarer currencies.
You can also use the search function to find a suitable exchange pair for you. All you need is the abbreviation for the cryptocurrency and the search function shows the available exchange pairs.
In this example, the USDT / EUR exchange pair is traded, after selecting the exchange pair in question, go to the buy and sell form. That form can be found below the courses. In the form you will find three different options: Spot, Cross 3x, Isolated 5x. In this example, we are doing a simple trade, so we choose the Spot option. After selecting Spot, you will still find Limit, Market and Stop-limit options. The simplest of these is Market (the other options under Spot allow for limit buy and sell orders. So Binance automatically executes trades when the price meets the Limit price you set.
Below you will find a draggable bar and by moving it in one direction or another you can determine the percentage to be purchased. Alternatively, the quantity to be bought / sold can be entered as numbers in the Amount section. After clicking the Buy button, the trade is likely to take place in real time, provided there have been no significant changes in the price.
The sale of cryptocurrencies in the Classic option is successful in a similar way to the sale of the Conversion transaction. Simply as a reverse process compared to the buying process.
Binance Fees and Limits
Platform applies a reasonable fee to its users as it is charging an average fee of 0.1% on each trade but there is a 50% discount on the trading fee if you are going to pay using the BNB
However, withdrawal fees differ for each cryptocurrency because there are different fees for different cryptocurrencies, clearly mentioned on the platform. Like, 0.0005 is applied for Bitcoin withdrawals by the platform, and 0.005 is charged for ETH withdrawals, similarly, there are different fees for different currencies. Here are a few guides for some cryptocurrencies to give a thought to the charges you will be paying for withdrawals on the Binance platform:
| | | | |
| --- | --- | --- | --- |
| Coin | Code | Fee | Unit |
| Binance Coin | BNB | 1 | BNB |
| Bitcoin | BTC | 0.001 | BTC |
| Ethereum | ETH | 0.01 | ETH |
| Litcoin | LTC | 0.01 | LTC |
| Neo | NEO | Free | NEO |
| Qtum | QTUM | 0.01 | QTUM |
| Status | SNT | 10 | SNT |
| Bancor | BNT | 1.2 | BNT |
| EOS | EOS | 0.7 | EOS |
| Bitcoin Cash | BCC | 0.0005 | BCC |
| Gas | GAS | Free | GAS |
| USDT | USDT | 50 | USDT |
Moreover, there is no deposit limit for a verified account. But it has set a limit for non-verified users as they can't withdraw without getting verified and providing all the important and required information.
How effective Binance Coin (BNB) will be
Binance has issued its cryptocurrency name Binance Coin (BNB) during launching its ICO. The Binance Coin (BNB) is so effective on its platform and can be used to pay fees to avail its services. BNB is the future of Binance as the platform has planned to create a Decentralized Exchange where BNB will be a key base currency. So, choosing BNB as an investment can be a good option, as the platform will use its profit to buy back some coins and then destroy them. So, it will have a worth and going to be a valuable asset in near future.
Verifications and Limits
New members must complete the KYC process to join the platform, and this requires e.g. disclosure of the following information; first name, last name, gender, home address, country, passport or other official identity card, and a new photograph with a clear view of the face. Although the customer has to provide extensive personal data for unlimited trading and a wide range of deposit options, the service can still be considered one of the most secure platforms in the industry. Reliability is indicated by the fact that Binance owns more cryptocurrencies than all its competitors combined. SHIBA INU alone holds more than 30,442,146,274,699 memo coins in one wallet, which means more than 210 million euros at the time of writing. The fruits of long-term development work are also borne by the excellent security settings, which are in a class of their own in the crypt world. However, for secure use, each user must properly store passwords and other security information in the account.
If you wish, you can adjust the security settings in the top bar of your account under Security. On this subpage you will find a wide range of options for implementing different authentication methods. However, it is up to everyone to choose which of these to implement, however, each security setting introduced slows down the rapid use of the service. Options include Security Key, Google Authentication, SMS Authentication, and E-mail notifications. Security Key means two-step authentication with momentarily changing code, Binance recommends enabling this with YubiKey, for example. Google Authentication is very similar to Security Key, and you can find more information about that authentication method here. SMS Authentication is, as the name implies, a text messaging service that is associated with your mobile number. Each time you try to make a change to your security settings, or withdraw funds from your Binance account, the platform will ask you to enter the one-time verification code found inside the text message that came with your mobile phone number. E-mail notifications are very similar to a text message service, but notifications and one-time codes come in the email address you connect.
Currencies supported by Binance
Binance is supporting almost 200+ cryptocurrencies and here are some of them:
Bitcoin (BTC)
Basic Attention Token (BAT)
Ethereum (ETH)
Binance USD (BUSD)
Litecoin (LTC)
Binance Coin (BNB)
Ripple (XRP)
Chainlink (LINK)
Bitcoin Cash (BCH)
Cosmos (ATOM)
Stellar Lumens (XLM)
Dash (DASH)
Tether (USDT)
EOS (EOS)
TrueUSD (TUSD)
Nano (NANO)
TRON (TRX)
Paxos Standard (PAX)
How to Deposit Funds/Cryptocurrency at Binance?
Binance doesn't allow users to deposit funds using payment methods like debit or credit card. The only way of depositing funds is with cryptocurrency. The suitable way is that users should deposit their funds in Ethereum (ETH) and Bitcoin (BTC) as there are other exchanges to buy your asset in fiat currency. Here is a method by which a user can deposit his/her asset in its Binance exchange account:
Go on to the "Funds" option present on top of the home page and click on "Deposits".
Click on "Select Deposit Coin", enter the currency code you want to deposit in your account. For example, enter ETH if you want to deposit Ethereum.
Copy the deposit address where you want to deposit your asset. For example, if you are sending your Bitcoin from your crypto wallet to Binance Exchange, you must confirm the correct Binance Deposit Address before transacting the crypto asset.
Within 10 minutes, your account will receive the crypto coin, for confirmation go to the "Funds" tab and click on "Balance".
Binance Pros & Cons
PROS
A user-friendly platform, very easy to use.
Comparatively more liquidity
Supporting a wide range of cryptocurrencies
Two-factor authentication supported platform
High trading volume
CONS
No fiat deposits or withdrawals
Delayed customer support
Faced security threats and breaches in the past
Conclusion
In the shadow of the available statistics and other information, there is no doubt that Binance would be a leading cryptographic exchange service offering e.g. affordable service fees and a great collection of cryptocurrencies. Thanks to Binance's strong partnerships, it is possible that it will evolve, grow and progress at a rapid pace, offering attractive and modern cryptographic services. The exchange service adds new and modern technologies and services to its range on a daily basis to become the best, world-class trading platform. We certainly weren't able to go through all the features of Binance in the article, but you can still find extensive information. This tells you how fast evolving and modern Binance is. In less than five years, the service has reached the limit of more than 10 million active users and is still able to increase its market share. The main reason for this is certainly the low replacement costs and the owners 'passion to further develop the platform. In addition, the everyday services brought by Binance, even for the use of Finns, are certainly expanding and developing. In 2020, we saw a bank card developed by Binance that works in all Finnish stores, so you can use cryptocurrencies to make everyday purchases! When the previously introduced Staking feature is included in this everyday addition, Binance is definitely Finland's absolute number one favorite when choosing the cryptographic service. However, please familiarize yourself with the service carefully before opening an account, as the terms and conditions may always change. Also consider the taxation of cryptocurrencies, before making buying or selling decisions.
Finvesting definitely recommends everyone to get to know this versatile service provider and the benefits it brings!