Payment gateways are considered one of the most important and blessing technologies ever created. In past, under traditional banking services; transfer money or make shopping online wasn't considered so reliable, secure, transparent, and efficient but modern payment gateways are playing a dreamy job by offering better and faster global financial transactions services.
Now-a-days; there are a variety of popular and powerful online payment gateways in the market but it's quite hard and tough to choose the right one. Here we are presenting you some key information about one of the oldest and unique online payment services providers; Skrill. It is a similar platform to Paypal and was founded after a few years of the launching of Paypal but Skrill has almost a similar market share. It is considered that Skrill often charges a little bit more fees than other of its competitors in the market but even then the company has managed to operate all over the world offering quality services. Skrill is a fairly popular payment method both in the world and in Finland, as its services are already available in more than 120 different countries! In addition to the virtual account, users also have access to a concrete Mastercard that can be used in everyday life in the same way as domestic payment cards.
Check out our comprehensive Skrill review article in 2022 and see if its good for you!
Skrill in a nutshell
Skrill (formerly known as Moneybookers) was established in 2001 as a digital wallet service provider with a variety of money transfer and online payment services. Now, Skrill is being operated in more than 120 countries; supporting 40 different currencies. By using bank transfer, card, or any alternate payment method; users can deposit funds into their skrill's digital wallet, and then that amount can be used to pay for online shopping, send another skrill user (family member, friend, or anyone), transfer merchant, or convert into cryptocurrency. Via its remittance service; Skrill also offering cross-border payment services named, Skrill Money Transfer. This service provides feasibility to customers to send money to a foreign bank by using the bank card. Along with; prepaid payment providers Paysafecard and Neteller, Skrill was also attained by Paysafe Group.
The digital multi-currency wallet provider company, Skill is being operated from its headquarter located in London, United Kindom and it is available for any internet user across the mentioned countries having more than 18 years of age with a registered email address. In June 2018, Skrill started to allow its customers to buy cryptocurrency using the fiat currency they have in their wallets. As of 2018, the company was availing services of more than 500+ employees and having a revenue of $331 million (2014 stats).
In addition to online shopping, Skrill is also a very popular payment method among online casino players. Skrill has also developed an online banking-based payment system called Rapid Transfer.
Key Features of Skrill
Here are some key features of Skrill, defining how effective and productive it will be for your banking needs:
Accessible and secured platform
It's quite easy to use Skrill, just open an account on the Skrill website and then start to avail services. Users can operate their accounts using Skrill's mobile app. Moreover, Skrill has the highest level of transparency and security, and every information of the customers is kept confidential and each transaction is monitored occurring on the platform by the system.
Quite simple and easy to use
The platform is so user-friendly that users can perform every kind of transaction like a credit card, cash, or email transaction so easily and efficiently in almost 40 currencies.
Supporting additional (local) payment methods
With 80 direct bank connections, there are 20 more payment methods have been integrated with the parent payment system.
Supporting recurring payments
Skrill also supporting a recurring payment system which makes it a unique platform.
Associated with multiple e-commerce platforms
It has been integrated with many e-commerce platforms like Magento, Shopify, WooCommerce, PrestaShop, Plentymarkets, Shopware, ShopFactory, and many more.
Perform transactions to a variety of individuals
Skrill offering a unique feature of sending money to a lot of people by clicking on a button just once and payment will be sent to all of them. It would be more helpful for those who are working with many merchants, suppliers, or manufacturers.
Skrill Mastercard
As soon as you open an account, you can order a Skrill Mastercard prepaid card that you can use as part of your daily life. The card will be sent to you by post and you can order it by depositing at least € 10 into your Skrill account. The annual fee is charged at the ordering stage.
Skrill Mastercard can also be obtained by a person with a payment default note. Of course, unemployment or low income is not an obstacle either!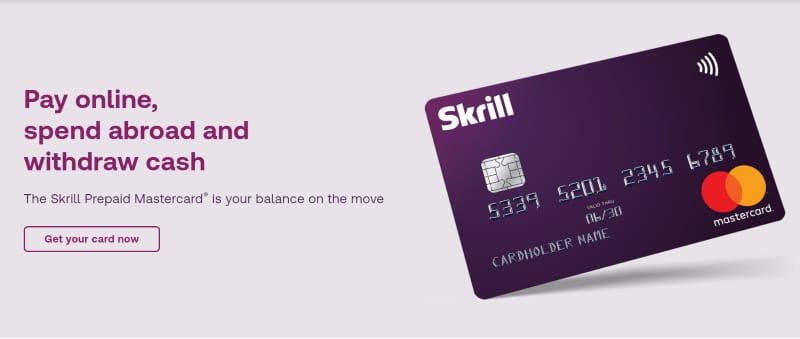 How to use Skrill?
Skrill is like PayPal – it's great for e-commerce purchases and other online payments, for example. Skrill is also the preferred payment method for foreign freelancers when invoicing at work, as the money transfer is relatively fast and Skrill does not charge additional costs for the transfer if the transfer is made directly to the recipient's bank account. If Skrill is used for payments where the currency is exchanged for another, a conversion fee will be charged.
The Prepaid card issued by Skrill is suitable for many people who travel a lot, as it can be used all over the world and there are no additional costs for the user. Although this is not an actual credit card, it can also be used to check in at the hotel in the same way as a real credit card. However, the actual additional features brought by the prepaid card do not compare with the metal payment card offered by Revolut, for example.
The Skrill payment method is used on several well-known e-commerce platforms, such as eBay and Amazon, and its use is also becoming more common on many other smaller e-commerce platforms. Skrill is an even slightly safer method of payment compared to credit card payments, as you don't have to provide your credit card information directly to the payer.
How to open Skrill account
Opening an account to Skrill is straightforward and easy. Go to the Skrill homepage and click the "Register" button. After this, personal information is requested, which includes e.g. name, address, email address, and creating a strong password. Click "Register now". The country of residence and local currency are then asked; always choose your local currency to avoid extra costs. Next, you will be asked for the desired payment method. And that's it. Congratulations, your Skrill account has been opened.
A separate Skrill app is also available for most smartphones, you can find it in your own app store. With the application, you can manage your own user account anywhere and anytime. After the first login, you can set a pin code in the app to make logging in quick and easy in the future. You can also add fingerprint / facial recognition to Skrill after deployment, depending on your phone, and sign-in is even easier. You can find Skrill Login here!
Skrill India
Skrill has the biggest user base of the world in India! Skrill India is mostly used among youngsters, whom need fast and secure payment options worldwide. You can open a free Skrill account in India easily just following our guide in this article.
Skrill – a cryptocurrency supporting platform
Skrill is also offering opportunities to buy and sell cryptocurrency as it's competing with PayPal and spreading its standards and qualities. But there is still a problem of lack of interchangeability between crypto and fiat on the platform. But it's in progress and hopefully, it will be resolved so soon.
Skrill Pricing plans and fees
Before using Skrill, you must have a clear knowledge of the fees and expenses as there is no clear information provided on the platform. So, before performing any transaction, you must contact the sales teams for better understanding as Skrill has not mentioned its fees on the website. Moreover; sometimes some hidden charges are implemented, you'll have to analyze properly to proceed with any step. Currency conversion charges for Skrill 3.99%; which means when you will receive the payment from a foreign country, then to convert that currency into local currency, you'll be charged 3.99%. Transactions performed with a digital wallet are charged 1.9% + €0.29. and for quick checkouts on an e-commerce store will be charged by 1.9% + €0.29.
Technical Specifications
| | | |
| --- | --- | --- |
| Devices Supported | Customer Types | Support Types |
| Web-based | Small business | Phone |
| iOS | Medium business | Online |
| Android | Enterprise | Email |
| Desktop | Private | Mail |
Deposit and Withdraw Funds from Skrill Account
Charges are implemented when you deposit or withdraw funds from your account. 1% fee is charged upon depositing money into your Skrill account, it is noted that it's just a fee charged by Skrill, if you are using any bank to transfer money from that bank to Skrill then that bank can also charge a particular amount. So, before performing a transaction; check fees or charges on both platforms to avoid any hidden or unknown fees.
Following methods are accepted by Skrill to deposit money in a user's account:
A specific fee is also charged when money is withdrawn from an account which is equivalent to 5.50 euros. If you are planning to withdraw money using debit or credit card then a 7.5% fee will be charged on that transaction amount.
How to transfer money using Skrill?
If you want to send money to another country then Skrill Money Transfer is a way to send money from a credit or debit card or bank account; to the account of that particular country. For this purpose, you don't need to have a Skrill account as Skrill Money Transfer provides you a quicker and cheaper method than the regular Skrill platform to send money outside of a country. There is no fee is charged while you are sending money abroad in a bank account by using Skrill Money Transfer. As, it's a quick and fast service, so, the amount is sent on the same day. But depending upon the location where to send the money, funds can also take up to 5 days to deliver.
Following countries are allowed to use Skrill Money Transfer to send money to a foreign country:
Belgium, Switzerland, Andorra, Canada, Bulgaria, Australia, Bahrain, Austria, Germany, Finland, Colombia, Estonia, Cyprus, Spain, Czech Republic, Denmark, Croatia, Hong Kong, Iceland, France, Ireland, United Kingdom, India, Greece, Hungary, Turkey, Thailand, South Africa, Tunisia, United Arab Emirates, Taiwan, etc.
Here are some stats and key information about Skrill in tabular form
| | |
| --- | --- |
| Account setup | Free |
| Account Maintenance | Free |
| Fraud Screening | Free |
| Skrill Digital Wallet | 1.90% + EUR 0.29* |
| Skrill Quick Checkout | 1.90% + EUR 0.29* |
| Refund | 0.49€ per transaction |
| Withdrawal | 4.00€ per withdrawal |
| Chargeback Fee | 25.00€ |
| Minimum Fee | Fees apply if you pay less than 10€/month in processing fees. |
Skrill Pros & Cons
PROS
Easy to use, efficient, and user-friendly app and website
Giving both business and personal options.
Having the ability to work with both gambling and forex accounts.
Users are offered a prepaid card powered by MasterCard.
Efficient money transfer to a phone number or an email address connected with your bank account
Providing options to buy or sell cryptocurrency
CONS
There is a complex fee structure
High currency exchange fees
Not offering global services, still in limited countries
Skrill Review Conclusion
Skrill is considered one of the best digital payment service providers as it is used worldwide and works on both mobile and PC. The most significant usage features are also real-time money transfers around the world, without significant transfer costs. Skrill is great for a variety of online purchases, as there are often concerns about the security of the charge when using a payment card. When using Skrill, you do not have to hand over your payment card information directly to the merchant and this is an important addition for security reasons.
Using Skrill's Mastercard also works carefree when traveling abroad, as it can be used like a credit card, for example when checking in at a hotel. If the card is lost and you do not make it easy to repay your card on time, you will only lose the funds you had on your Skrill prepaid debit card. Skrill is also a popular payment method for invoicing freelancer jobs between different countries, as money transfers take place immediately and are not charged when funds are transferred to the recipient's bank account.
With respect to online service fees and features, information is limited; use is not recommended without contacting the sales team. Use is successful for Europeans, but U.S.-based merchants are advised to avoid it or use the service only after contacting the sales team.
Was this Skrill review article helpful? Send us a message here if you still have some questions!
Some facts about Skrill
Skrill was formerly called Moneybookers. You can still come across this designation even today, so be careful!
The Skrill Mastercard can also be obtained by a person with a payment default note. Of course, unemployment or low income is not an obstacle either!
You can find Skrill's service fees and card prices on Skrill's own website.
The competition is worthwhile in this case as well, as it may not be the best possible service for you!