Gone are those days when cryptocurrencies are for the future as the initial perception of people about cryptocurrencies was that of a skeptic due to the effects of so many financial internet-based frauds.
Most people opined that cryptocurrencies — trading or HODLing (that is, holding) — would never be feasible as they dreaded the prospect of having to deal anonymously with someone on the other end of the line also known as DeFi (Decentralized Finance).
Recently, more people have become advocates for trading and hodling cryptocurrencies as it has become a global phenomenon so much that there have been a lot of silent regrets from those that didn't invest when it was relatively easy to invest in.
General overview
Over the past few years, many organizations and financial institutions (excluding banks) have seen the positive prospects of dealing in digital currencies so much that they have gone in with both feet to provide services to ease the transactions of these currencies.
One of such companies is the Finnish company "Coinmotion Group" which was founded in 2012. The group oversees the affairs of Coinmotion, which is a financial investment platform, and Bittimaatti, a Finland-based Bitcoin ATM network. The group is headquartered in Jyväskylä, with branch offices in Helsinki and Tampere.
In 2013, Coinbase was ranked as the highest-funded Bitcoin startup and largest crypto exchange platform as well. Contrary to other exchanges, there is a set price for your cryptocurrency based on market value and this thing facilitates the users to buy cryptocurrency more easily and quickly as well. It is also considered one of the simplest and easiest crypto trading platforms where Bitcoin and other cryptocurrencies can be bought using PayPal, Debit Card, Credit Card or with fiat currency via Bank Transfer.
In addition to buying cryptocurrencies, Coinmotion's service can also be used to pay bills – it works in many respects like traditional online banking. Coinmotion's goal is to make cryptocurrencies better known to every Finn, as it is good to get to know the currency of the future already at this stage. In addition to trading, the site also contains a lot of additional information and exchange rates, which you can take a first step into the world of cryptocurrencies.
Coinmotion enjoys a safe and reliable reputation among Finns. An example of this is the fact that no Coinmotion customer has lost their funds from the platform due to hacking or a bug. So you can have no worries, as your assets are completely safe while making them as user-friendly as possible.
What is Coinmotion?
The platform is aimed at trading cryptocurrencies and can be traded there in several different cryptocurrencies. It is the official digital currency broker in Finland. However, Coinmotion has also expanded its operations beyond Finland's borders, being one of the leading cryptocurrencies in the Nordic countries.
Coinmotion can be compared to traditional online banking, as in addition to trading in cryptocurrencies, the platform allows both the storage of funds and the payment of bills. In practice, this means that you can buy Bitcoins, for example, store it in your Coinmotion account and use it later as a means of payment to pay your electricity bill, for example. Coinmotion also offers its users a wide range of loan services. The platform is really simple to use and offers its users the opportunity to earn additional roadblocks with various benefits.
Coinmotion website
The interface of the Coinmotion website is well designed and not too difficult to navigate. It offers an awesome and straightforward user experience (UX) with every icon and button in just the right place.
On the front page you will find a description of the website in English, Finnish and Spanish.
Registration
Joining the Coinmotion website platform is not tedious, nor does it include unnecessarily many tedious and unnecessary fields that should be filled out. Completing the registration form is a snap. Start using Coinmotion with the 'Register' button in the top right corner of the page, this will guide you to fill in the above registration form, which is not too time consuming and will be successful for everyone. Already when opening an account, you need to verify your identity, which is conveniently done, for example, with online banking authentication. Authentication is mandatory for every new user and will further increase the security of your user account.
Login
Login to the platform is secured with 2FA, which sends a verification code to a registered email address or phone number before access to the account is granted. After the first successful login, you can link either your bank account or debit card to your Coinmotion account. Of course, this is not a mandatory evil, but you cannot visit cryptocurrencies before performing that operation. The connection of your bank account will be verified with the verification code provided by e-mail, if you link your account, the connection of the payment card will be verified with the online banking identifier. However, please note that the linked form of payment must be registered to the same name as your Coinmotion account.
Coinmotioin Crypto Exchange
The website portal works just like other conventional cryptocurrency exchanges such as Binance, HiTBc and KuCoin among others. Buying and selling digital assets, as well as exchanging them from one cryptocurrency to another, and trading between Fiat (local currency) and cryptocurrencies is successful. You can start trading in cryptocurrencies by depositing funds into your Coinmotion account using the payment method you previously combined. After depositing the funds, head towards the marketplace and choose the most suitable trading item for you. The app will guide you conveniently to the end!
Congratulations, you have now successfully made your first cryptocurrency purchase!
If you want to sell your cryptocurrencies, head back to the marketplace and click the sell button. Once again, the app will guide you conveniently to the end.
Fiat currency
The website portal works just like other conventional cryptocurrency exchanges such as Binance, HiTBc and KuCoin among others. Buying and selling digital assets, as well as exchanging them from one cryptocurrency to another, and trading between Fiat (local currency) and cryptocurrencies is successful.
Cryptocurrencies and wallet
The following cryptocurrencies are available on the Coinmotio Exchange; Bitcoin (BTC), Litecoin (LTC), Ethereum (ETH), Ripple (XRP), Stellar Lumens (XLM).
When you buy cryptocurrencies, you need a safe place to store them, a so-called 'wallet'. We do not recommend storing cryptocurrencies on a trading platform, but rather keeping them in a wallet differentiated from the trading venue. Coinmotion offers its users their own wallet, where they can easily deposit different currencies immediately after successful registration. The deposit is completely safe as well as carefree. The Coinmotion wallet is activated for your use as soon as you open your user account on the platform, so it does not need to be installed separately. Note, however, that this wallet is not suitable for storing large amounts of cryptocurrencies, but can be found here separately made cold wallets such as Safe Ledger.
The Coinmotion wallet is easy to use regardless of your device, as it is suitable for both PC and multiple mobile devices. Just like your traditional wallet, your crypto wallet goes with you everywhere.
With the help of the wallet, you can also send cryptocurrencies to someone else's cryptocouple, which means that the transfer of funds is a bit like with Mobilepay or Pivo. So you can conveniently share the cost of a wet restaurant night with friends with just a few clicks. To transfer cryptocurrency from one wallet to another, you need the recipient's wallet address. With Coinmotion, that address is the email address associated with the user account. You can also scan a modern QR code to make payments even easier.
It is also possible for the user to create several different wallets in Coinmotion – this is especially handy if the user has several different cryptocurrencies. So you can create your own wallet for each cryptocurrency you own.
The Coinmotion website
The interface of the Coinmotion website is well set up and not too complicated to navigate. It provides a great and simple User Experience (UX) where the icons and buttons are in the right places.
There is a description of what the website is all about on the home page in English, Finnish and Spanish.
Registration
Joining the Coinmotion website platform is not too tedious to complete nor does it include too many boring and unnecessary details to be filled out. Completion of the form for registration is near instant.
Sign in
Signing in on the platform is made secure with the 2FA which sends a verification code to your registered email address or phone number before you can be granted access into your account.
The Coinmotion Crypto Exchange
The website portal functions just as any other conventional cryptocurrency exchange such as Binance, HiTBtc, KuCoin among many others. You can buy and sell your digital assets as well as make trades between one cryptocurrency and the other and also make trades between Fiat (Local) currencies and cryptocurrencies.
Fiat Currency
The only Fiat currency that is available for transactions on Coinmotion is the Euro. This is nowhere near enough as far as a cryptocurrency exchange is concerned.
There is a need to adopt more fiat currencies on the platform so that more investors will find it easy to use their native currencies to transact on the platform.
Cryptocurrencies
The following cryptocurrencies are available for trading on Coinmotion exchange; Bitcoin (BTC), Litecoin (LTC), Ethereum (ETH), Ripple (XRP), Stellar Lumens (XLM).
Enjoying the full features of the exchange such as Wallets, Transfers, Trading, and Savings requires you to compete KYC and your personal information.
Coinmotion services
Services provided on Coinmotion are in two categories:
Private services
Company services
The Private services category includes the following itemized services:
Fast transfers – Cryptocurrency and Euro transfer are free and completed very fast. There is also the chance for you to pay your invoices on Coinmotion.
Holvi – Secure storage – which provides adequate security for your transactions. This security is essential due to the fact that digital financial transactions, most especially cryptocurrency transfers are irreversible. The Vault service is set up and made available for you if you desire an extra layer of security for your transactions.
Interest account – this is a service that is incorporated with Tesseract. It allows you to earn daily compound interests or passive income from your digital crypto assets. It functions as a form of lending scheme that compensates you for lending your assets to the market in order to carry out financial transactions.
Monthly saving – with this service, you can decide to have a budgeted amount of money that you deposit monthly in order to bolster your crypto hodlings. You can also decide in advance which crypto assets your monthly saving should be diverted to.
Trade and store – you can trade in pairs with different crypto assets on coinmotion. The following assets are currently being traded on the platform; BTC, XLM, ETH, XRP, and LTC.
Referral rewards – when you invite people to Coinmotion, and you are bound to be rewarded 50% of the trading fees paid by your referral during the first 12 months of their registration on the platform. This can be achieved through recommending Coinmotion on your social media platforms, website, or blogs.
The Company services provided on Coinmotion are as follows:
Trade and store crypto – as a business owner with a corporate account, you can safely trade, transact and store your cryptocurrency assets and earn interest with your hodlings.
Merchant services – enables you to utilize cryptocurrency payments, and make direct withdrawals of your bank account albeit in euros.
Become a Coinmotion agent –
Coinmotion API – you can link your Coinmotion account to other services so that you can easily monitor your investments. You can also use the API to add cryptocurrency payments to your web store.
Partnership opportunities
Coinmotion benefit program
The service offers two types of options to its users. By taking advantage of these different options, its users are able to make additional road tests with their own work. The basic purpose of these benefits programs is, of course, to get more customers for Coinmotion, meaning everyone benefits from these programs (old customer, new customer and service provider). One option in the benefit programs is to join the ranks of developers and contribute to the improvement of the development targets observed on the platform. The loyalty programs are called Invitation Reward and Ambassador.
In the Ambassador Benefit Program, your job is to provide feedback based on your user experience and development ideas to help the site evolve in a better direction. Based on this feedback, Coinmotion interprets the items to be improved on its platform and is able to develop those things to be more customer-friendly. How can I participate in that benefit program?
For your part, you can participate in the development work by conveniently creating content on various channels and even organizing your own event! The Coinmotion team is passionate about developing the platform in a better direction, so you can be sure that the rewards they offer for your development work are significant.
However, if you end up developing a platform for gloss in your eyes, you will need to opt for the aforementioned Call Benefit program. In practice, this means the same work that many online players are already doing. Your job is to get more customers to join the Coinmotion service and the company will pay you a fee for this new user registration. With this benefit program, you earn 50% of the commission they pay for new customer visits for up to 12 months. This loyalty program is not useless for a new customer, because by joining the service through your loyalty program, he or she will receive a whopping 50% discount on trading costs for the first month!
Using Coinmotion
Coinmotion's interface is really user-friendly, so everyone can control its use. Coinmotion has received much praise for its easy and clear interface. The user experience is very similar to that of most domestic online banks – the biggest difference between them is that traditional online banking does not allow you to take advantage of the opportunities offered by cryptocurrencies. Coimotion's platform allows you to pay bills in addition to trading in cryptocurrencies – you can use the cryptocurrencies you own to pay everyday bills as long as you first convert the funds into FIAT. However, Coinmotion charges a small additional fee for these fees, so using the platform for this purpose will incur a small additional cost to you. Cryptocurrencies can be easily exchanged between other users using only the email address associated with the account – you can both send and receive cryptocurrencies.
Transferring cryptocurrencies within a platform from one user to another is completely cost-free, but when transferring outside the platform, you have to pay a small transfer fee. Invoices can be paid through the platform to any recipient in the European Economic Area, be it an individual, a registered company or a bank. The platform provided by Coinmotion does not yet directly support the payment of an invoice in cryptocurrencies, at least for the time being, but the user will have to convert his cryptocurrency into, for example, euros before the payment is made.
Coinmotion Vault
Coinmotion Vault is a service aimed at storing cryptocurrencies, where funds are stored in so-called cold wallets. In practice, therefore, it means that the wallet is not connected to the Internet, but is offline. As a result, outsiders cannot access the funds online. We recommend each person investing in cryptocurrencies their own cold wallet. Of these, in addition to Coinmotion, Ledger should also be mentioned.
In its shortness, the Vault is therefore a time-locked service, where you can specify the duration of the time-lock in connection with the deposit, from 12 hours up to 30 days. When the Time Lock is active, no funds can be accessed at all. When depositing funds into the Vault, you should also choose the duration of the time lock. Note, however, that when the lock is on, you yourself will not have access to the funds – they will be released for transfer when the Time Lock expires.
The time lock provides excellent protection for your assets, and in addition to these, Holvi also uses codes sent by e-mail and text message to verify the acceptance of transfers several times. In this way, the aim is to prevent the slightest possibility of abuse. Your funds are completely safe during the time lock, so you also need to be flexible about it – if the time lock is active you find that you need funds for something, you will not be able to access them. So always think about how long your funds can be behind bars in the Vault before depositing funds. Also note that the security provided by Vault does not come at no extra cost – it works with a monthly fee, the amount of which depends on the value of the funds you deposit. However, the pricing is quite clear and affordable, as one Bitcoin can only be deposited in euros.
Coinmotion Interest Account
The interest account allows Coinmotion users to earn passive income using cryptocurrencies. When you deposit your cryptocurrencies into the service, they increase the interest rate as you lend the currency forward. When you lend the crypts you own to a service, they grow in return for you with interest – very simple! The amount of interest depends on the prevailing market situation, ie in a good upswing you will have access to very attractive interest rates. All of this is just a few clicks away, so earning a potential passive income doesn't require big action from the user.
The cryptocurrency market is known for its, sometimes large, debt leverage deals. This means that both institutions and large private investors will use market-available, borrowed cryptocurrencies to enable larger trades. So they borrow your currencies to buy more for themselves. And for this you will be paid compensation in the form of interest. Coinmotion thus enables its users to act as lenders to the market.
Coinmotion pricing
Coinmotion is a bit more expensive in terms of operating costs than international trading platforms – it's probably not a surprise to anyone, because we are in Finland. Of course, domesticity is often the kind of thing for which you are happy to pay a slightly more expensive price. If you are looking for low transfer costs, you should check out the other marketplaces on our website and compare their operation with each other. You may find that Coinmotion may be the best place for a Finnish investor.
Opening an account itself is completely free for everyone. When trading cryptocurrencies, Coinmotion will charge you a 2 percent commission. If you deposit your funds into the service using a debit card, you will be charged a processing fee of 4%. It's undeniably a bit of a high price, but luckily the transfers are completely free! Additional services offered by Coinmotion, such as Vault, are priced for a month. However, the wallet that comes with opening an account is free. When you withdraw funds to your account, like many other platforms, there is a small processing fee. For Coinmotion, this handling fee is 0.9 € per withdrawal.
Careers
One of the most intriguing and enticing features and services provided by Coinmotion is the "Career" feature as the company prides itself in looking out for highly skilled, talented, and professional individuals for job opportunities.
The website has a special link where you can check for open positions on the Careers page. Some of the current job openings include;
Backend Developer
Product Development
Backend Developer (Node.js)
Product Development ·
HR Specialist
Human Resources ·
Mobile App Developer (React Native)
Product Development
Backend / Web Service Developer
Product Development ·
Visit here to check out details of the job opportunity that you may be qualified for.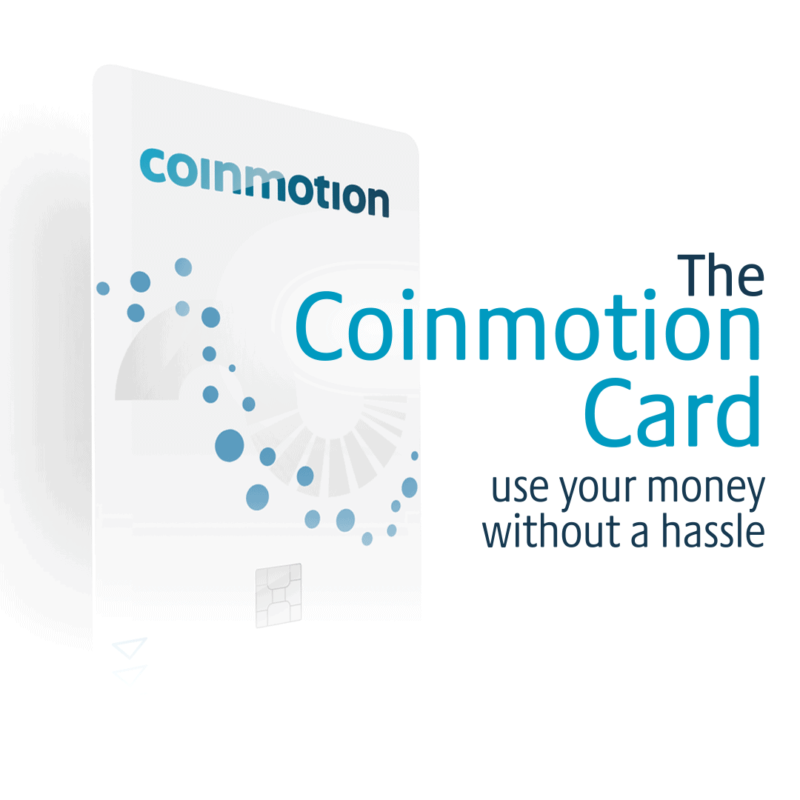 Coinmotion Card – Prepaid debit card
The Coinmotion Card is a prepaid card linked to your Coinmotion account. It is the first Nordic payment card to use cryptocurrencies. It is made for everyday use and allows you to use your wallet funds anywhere, anytime. Both cryptocurrencies and FIAT currencies are available. You can use the card for online payments, paying for food purchases in the supermarket, as well as ATM withdrawals. The Coinmotion Card operates in more than 29 million locations worldwide.
Why to use a Coinmotion Card?
No bank transfer waiting times – Bank transfers can still take up to one business day. Who has time to wait that long? When you sell cryptocurrencies with Coinmotion, you can use your funds immediately with the Coinmotion Card.
Sell ​​cryptocurrencies at any time – Convert cryptocurrencies to cash just when the time is right.
Your assets are protected – Coinmotion has built a service based on years of experience in the safe use of cryptocurrencies. Coinmotion is certified and regulated by a license from the Financial Supervisory Authority.
Use the card anywhere, anytime – You can use the Coinmotion Card just like your regular debit card. The Coinmotion Prepaid Debit Card works in any online and offline store, as well as in more than 29 million locations around the world.
At the time of writing, the Coinmotion Debit Card is not even pre-orderable yet, but is expected to be available to consumers later this year. You can order the card through the management of your own Coinmotion account, as long as it is available. If you don't have an account yet, you can open a free Coinmotion account here!
Social media
Coinmotioin's social media platforms are quite active, especially the YouTube channel. There's a video series on display that aims to make potential investors aware of the platform and learn more about it. Coinmotion is also active on many other platforms, such as Instagram, Twitter, and Linkedin. Current news about cryptocurrency market changes keeps Followers up to date while you get to enjoy stylish content.
Coinmotion Pros & Cons
PROS
Active social media platform
Provision of career opportunities for investors
Well secured crypto exchange platform
Easily navigable website platform
Exchange is available on Android and iOS devices
You can make deposits on the platform with no deposit fee charged.
CONS
The monopoly enjoyed by the Euro as the sole fiat currency for trading on the platform so not too encouraging as there might be investors who would rather trade in their own native currencies such as USD, GBP, JPY, etc.
A review needs to be made to add more fiat currencies to the platform to make transactions more seamless.
The platform has not gained enough global popularity that will encourage more investors to invest through it.
There is no native cryptocurrency attributed to Coinmotion exchange for investors on the platform to trade with.
More cryptocurrencies need to be added to the Coinmotion exchange.'
Conclusion
For Finnish users, Coinmotion is a great option thanks to its domesticity. It is regulated by the Finnish Financial Supervisory Authority and follows precise instructions issued by the authorities. It is therefore a guaranteed reliable platform. It provides its users with utilities that allow users to earn potential additional messages very conveniently.
Coinmotion's platform is really clear and easy to read, so every new user in the crypt world can manage and use their resources without much knowledge. However, Coinmotion's investment portfolio is slightly narrow compared to foreign trading platforms. You will also not be able to do so-called copytrading trading on the trading venue, which would allow other investors to copy your portfolio. So you have full access to the content that suits your crypto portfolio.
One clear and consistent point – which is common in the crypt world – is that DeFi, the blockchain, wallets, and merchant services tend to offer similar, or identical, services with a couple of slightly different features.
In addition, new DeFi service providers are almost certainly based on the principles of existing platforms, as well as those that are widely used and known.
For the past nine years, Coinmotion has been providing cryptocurrency services to investors that make transactions reasonably easy among other services offered.
Coinmotion FAQs
What Is Coinmotion?
Coinmotion is a Finnish cryptocurrency trading platform. In addition, on the platform you can store, send and receive several different cryptocurrencies.
What are the operating costs of Coinmotion?
The operating costs of Coinmotion are the following:
account opening: free
brokerage commissions: 2% per completed transaction
deposit commission with payment cards: 4%
deposit commission by bank transfer: 0%
withdrawal fee: € 0.90
What is Coinmotion Vault?
The Coinmotion Vault is a time-locked wallet where your cryptocurrencies are completely safe. It is a so-called cold wallet because it is not connected to the internet. So outsiders do not have access to your funds!